2016 Hula O Na Keiki Winners Award Ceremony
Each year, the Kane (male) and Wahine (female) winners from the previous year of Hula o Na Keiki children's hula competition are awarded Koa wood framed portraits of their winning hula performance. The 2016 Hula o Na Keiki Winners Award Ceremony was held at Kaanapali Beach Hotel.
For the past several years, I have been blessed to be the official Hula o Na Keiki photographer invited to create portraits of the winners. One set of framed portraits is presented to the winners and one set hangs on the wall in the lobby in the hotel.
I was fortunate to study under the renowned hula photographer, Randy Jay Braun, who taught me how to best capture the essence of hula.
Congratulations to the 2016 Hula o Na Keiki Winners, Jaelynn Nobriga and Justin Brache, for their well-earned awards.
Mahalo to Zane Mathias for the official photograph from their presentation on stage!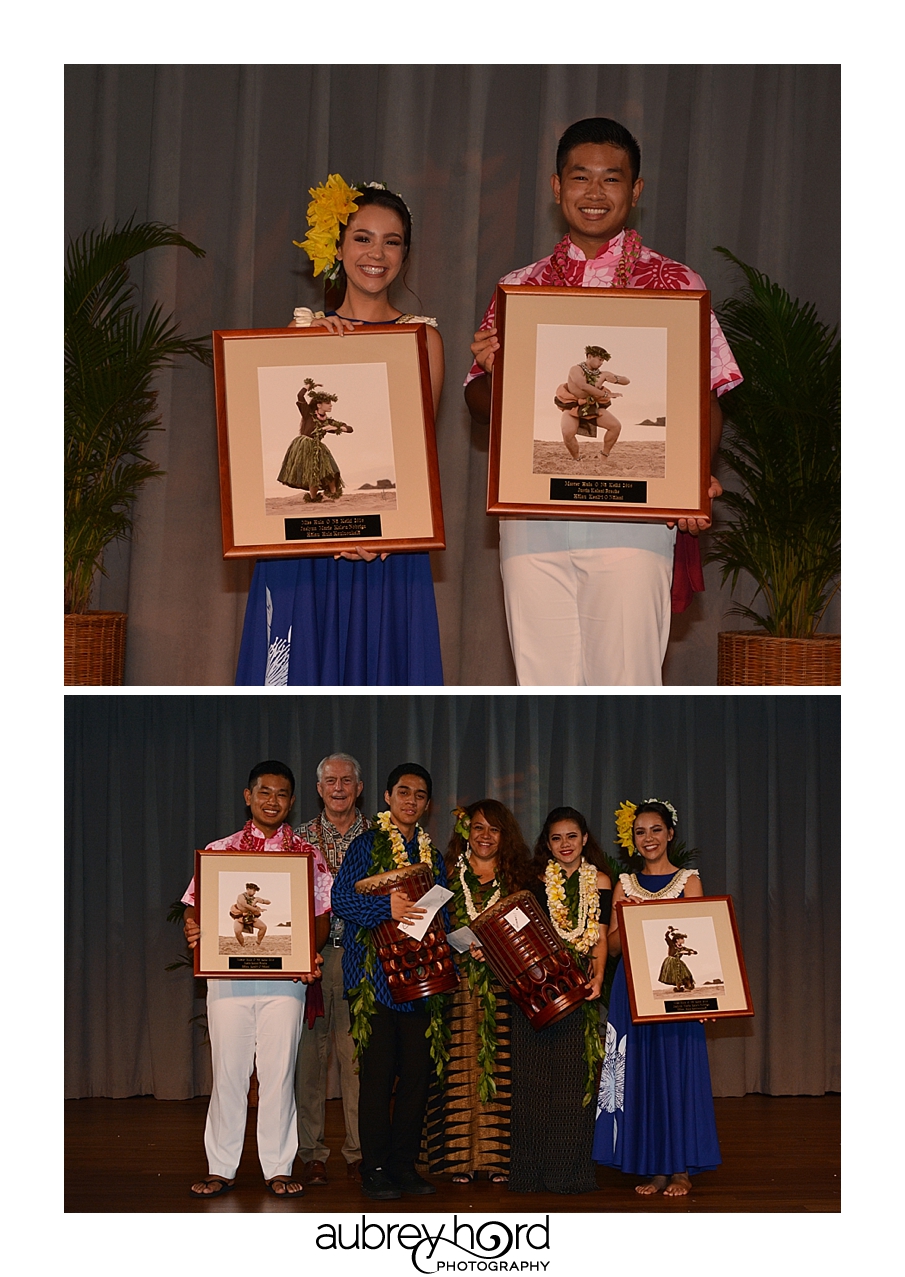 About the Artist:
Aubrey Hord is a PPA Photographic Craftsman (Cr.Photog.) and is a PPA Certified Professional Photographer (CPP) in Hawaii. She is listed as one of Maui's finest professional photographers in the Absolute Maui book. She has been a Teaching Artist at the Hui No'eau Visual Arts Center since 2010 and be a photography instructor for the University of Hawaii, Maui College EdVenture Program starting in February 2018. Aubrey began her photography career managing her high school darkroom. She is a member of the American Society of Photographers (ASP) and the American Society of Media Photographers (ASMP), the premier trade association for the world's most respected imaging professionals.
Since her first international trip at age 14, Aubrey has explored, studied or worked in 14 countries on 5 continents. She is known for her mastery of light, vivid colors, and designs. She has photographed  musical icons for the Maui Arts and Cultural Center including Elton John, Jimmy Buffet, Aerosmith, John Legend and the Steve Miller Band.
Aubrey's photographic work has been featured in the LA Times along with national and international publications. Aubrey's photographs are also featured in the Te Papa Museum of New Zealand, Faces of Hawaii books and in the Absolute Maui book. She and her husband currently live on the slopes of Haleakala volcano on Maui with their two golden retrievers.